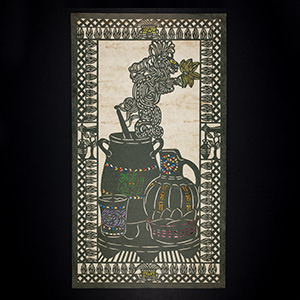 In this episode, Pilar Zazueta and Daniel Arbino talk about archival materials presented in the Benson online exhibit A Hemisphere of Knowledge. How do these materials help us understand knowledge production in the Americas? The hosts also discuss the example of food (tamales! cassava! chocolate!) and its relationship to ancient and contemporary wisdom and cultural production. (Image: Corazón del cacao, by Catalina Delgado-Trunk, undated. Courtesy Benson Latin American Collection.)
Resources
A Hemisphere of Knowledge: A Benson Centennial Exhibit https://exhibits.lib.utexas.edu/spotlight/hemisphere-of-knowledge
Altieri, Miguel A. Agroecology : The Science Of Sustainable Agriculture. 2d ed. Boca Raton, FL: CRC Press, 2018. Print.
Lonetree, Amy. Decolonizing Museums : Representing Native America in National and Tribal Museums. Chapel Hill: University of North Carolina Press, 2012.
Wilson, Warren M., and D. L. Dufour. "Why 'Bitter' Cassava? Productivity of 'Bitter' and 'Sweet' Cassava in a Tukanoan Indian Settlement in the Northwest Amazon." Economic Botany 56.1 (2002): 49–57. Web.