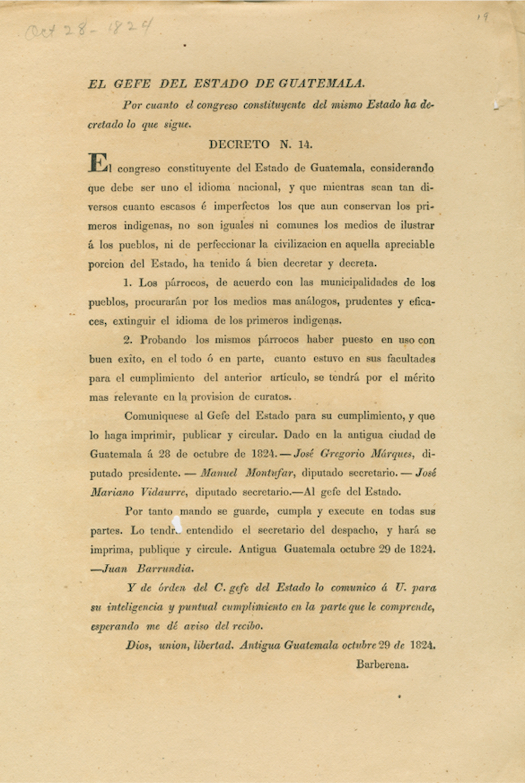 En este episodio, Pilar Zazueta habla con Daniel Arbino sobre un documento de la colección Arturo Taracena Flores: un edicto de 1824 redactado por el nuevo gobierno independiente de Guatemala. ¿Cuál es la relevancia del documento y qué nos dice sobre los legados de la dominación colonial en Centroamérica? Listen in English
Enlaces
Colección Arturo Taracena Flores
Biografía de Dr. Demetrio Cojtí 
Iniciativa para Idiomas Indígenas, LLILAS Benson 
El Archivo de los Idiomas Indígenas de Latinoamérica
Grandin, G., D. Levenson-Estrada, and E. Oglesby, editores. 2011. The Guatemala Reader : History, Culture, Politics. Duke University Press. 
LLILAS Benson. 2021. "Indigenous Languages Thrive at UT Austin: Quechua, Nahuatl, and K'iche'." Portal online.
Pinto Soria, J. 1996. Nación, caudillismo y conflicto étnico en Guatemala (1821–1854). Instituto de Investigaciones Políticas y Sociales, Escuela de Ciencia Política, Universidad de San Carlos de Guatemala.
Romero, Sergio, y Susanna Sharpe. 2021. "En memoria de Manuel Tahay." Revista Portal.