Americans have been shocked by the stream of visual information that has flooded the news and social media over the past year. We have also witnessed the deplorable treatment of many journalists covering these events. In this episode, we'll hear from Carolyn Cole, a photojournalist with the Los Angeles Times whose archive is part of the Briscoe Center's collections. Despite her lengthy experience working in combat zones, she didn't expect to be targeted as a journalist in her own country. In June 2020, Cole was temporarily blinded with Mace when she covered the "Black Lives Matter" protests in Minneapolis following the vicious murder of George Floyd. In this episode, she discusses the Minneapolis protests, the importance of portraying the human cost of conflict, and her conscious effort to record history.
Carolyn is interviewed by Alison Beck, the center's director for special projects, and Ben Wright, the center's former associate director for communications.
Below are a selection of photographs taken from Cole's work covering the Minneapolis protests.
This episode of American Rhapsody was mixed and mastered by Sofia Salter and Morgan Honaker.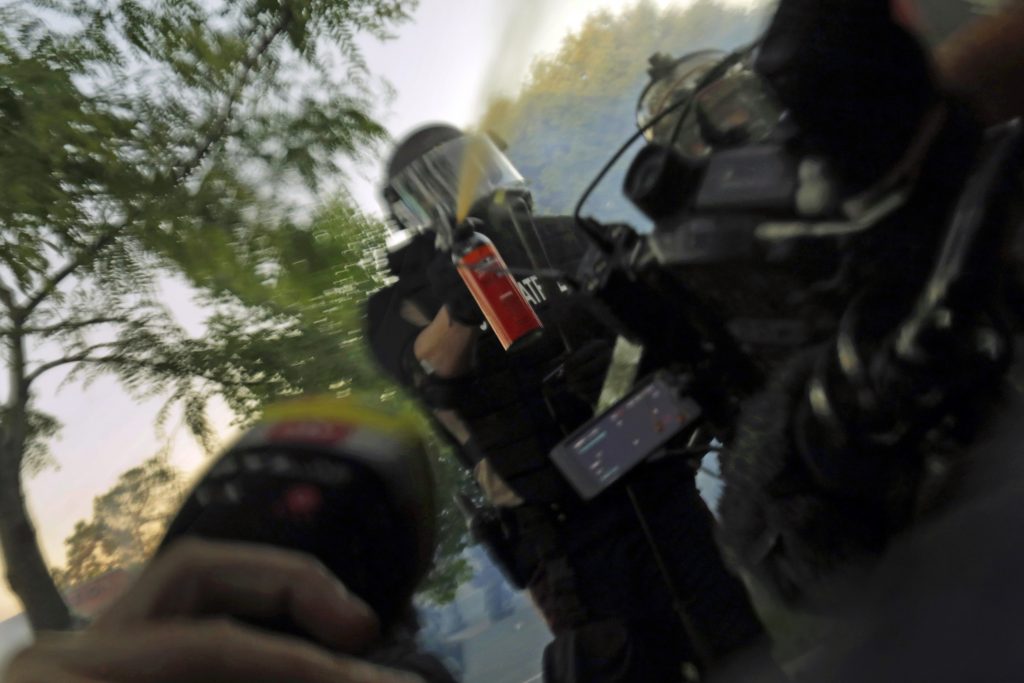 Hosts
Don Carleton

Founding Director of The University of Texas at Austin's Dolph Briscoe Center for American History

Alison Beck

Director of Special Projects at the Briscoe Center for American History at the University of Texas at Austin

Ben Wright

The Briscoe Center's Associate Director for Communication at the University of Texas at Austin
[0:00:02 Speaker 1] what they remember. Mm. This is American Rhapsody, a podcast of the Briscoe Center for American History at the University of Texas at Austin. American history is many things, but it is most certainly a rhapsody quilted together from the ragged patches of many disjointed stories and yet somehow still managing to form a coherent whole. I'm Don Carlton, executive director of the Briscoe Center, a repository for the raw materials of the past, the evidence of history that we collect, preserve and make available for use each episode. We talked to the individuals who helped create that evidence to the donors who preserved it, and to the researchers who used those collections in their work. And we keep the American rhapsody going. Mm. Americans have been shocked by the stream of visual information that has flooded the news and social media over the past year. Images and videos of the vicious murder of George Floyd, peaceful protesters being assaulted and tear gassed by the very authorities who should be protecting them. Looting and rioting and an unprecedented event in the history of the United States, the violent assault on the nation's capital by right wing extremists. We have also witnessed the deplorable treatment of many journalists covering these events, some targeted with rubber bullets, pepper spray, tear gas and rough treatment. Even when clearly identified, local, state and national authorities have failed to make the distinction between professional reporters and the protesters they are covering. The result is that right police have attacked the very eyes of the nation. For decades. Members of the press have placed themselves in harm's way to document America at its worst. The same is true for those covering our current protests. Today, we'll hear from Caroline Cola, photojournalist with the Los Angeles Times, whose archive is part of the Briscoe Centers collections. Over the past 30 years, Cole has witnessed and photographed major tragedies, disasters and war from the 1999 Columbine High School massacre and the aftermath of Hurricane Katrina in 2000 and five to wars in Gaza, Bosnia, Liberia and Iraq. She received the Pulitzer Prize for feature photography in 2000 and four for coverage of the siege of Monrovia, the capital of Liberia. Despite her lengthy experience working in combat zones, she didn't expect to be targeted as a journalist in her own country. In June 2020 Coal was temporarily blinded with Mace when she covered the black lives matter Protests in Minneapolis following the murder of George Floyd, the people who attacked her. We're not protesters. Rioters are agitators. They were police officers. Caroline site, thankfully, has been restored, and she's back working for the L. A. Times. Today, her work focuses on the environment.
[0:03:19 Speaker 0] In this episode,
[0:03:20 Speaker 1] she discusses the Minneapolis protests, the importance of portraying the human cost of conflict and her conscious effort to record history. Caroline is interviewed by Allison Beck, the center's director for special projects, and Ben Right, the center's former associate director for communications. Over to them.
[0:03:42 Speaker 0] Well, thank you, Don. Today, as you've mentioned, we're joined by Carolyn Cole, and we also have Allison Beck, the director of special projects here at the Briscoe Center. Welcome, Caroline. Thank you very much. And welcome Allison to thank you, Caroline. You graduated from the University of Texas at Austin in the 19 eighties. Tell us a little bit more about your time in Austin. Well, first of all, I didn't find photojournalism and tell my software you're in college. But I quickly transferred to U T. Austin because I knew they had a good reputation for journalism, and there I was very fortunate to have several good teachers, including JB Coulson, Dennis Darling and Larry Price. I mean, I clearly remember taking JB Coulson's course on the history of photography that first summer semester before my junior year, and it taught me so much about the importance of photography and about being a witness to history. And then that fall semester. Larry Price was one of my teachers. He had just won the Pulitzer for his coverage of the Civil War in Liberia, and he was very instrumental in informing my work ethic. I I remember watching how hard he worked not only in the field but in the dark room, perfecting his prints, and he worked alongside the students there. So he was very influential to me early on. And also Dennis Darling. I mean, he's an exceptional documentary photographer, and I still continue to admire his work to this day. So I had only two years at UT, but they provided me an incredible start to my photo journalism career, and I'm very thankful for that. Reminds me of the joke about Michael Dell, who spent I think a year at UT before dropping out and founding what is now a very large and successful computer company. And someone once joked, Imagine how large and successful del would be if it had spent four years at the university. Exactly. Yeah. I mean, that's one of the things I wish I had found it earlier because I never got to work at the student newspaper. I got in there very late, and the staff of the student newspaper was already full, so I didn't get my first internship till well, after I left you. T I first started a small daily outside of Washington, D. C. And I worked there for one year. And then I went back to graduate school at Ohio University. And it was then I got my first internship in El Paso, Texas, so I could have Yeah, I could have been a little bit quicker on the start if I had found photojournalism a little earlier. So I'd love to know more about your time in in West Texas. Was that with the El Paso Herod Post? Yes. I mean, West Texas was just the perfect place for me to start my career. it was action internship that had been offered to one of my friends at graduate school. But when she turned it down, I I applied and was able to get that internship, and just being on the border was something that I had never experienced before. My dad was in the military, and basically I grew up in the suburbs of both California and Virginia, and I had never really been working on a border before, and this was a great experience because it was like working in an international country. At that time upon, the pre parties were very active and thousands of people would gather for these giant rallies. They stormed the bridges. It was something I had never seen, these people that were so passionate about the news and about their government. So the other stories that were going on at that time were obviously the drug wars, immigration, the factory workers, many of the same stories that are still continuing to this day. So I'm very grateful for the time that I had there, and that led me to move to Mexico City a few years later, where I worked as a freelancer traveling all over Mexico and Central America and the Caribbean, including Haiti. And I think that those years I spent in Central America and Mexico were very instrumental in gaining confidence, not only the ability to work alone working in the field and how to travel safely, but just giving the overall confidence in myself. And just as you describe it was, I don't know how internships work today, and there's a lot of they seem to be criticized quite a lot. But it was totally where I got my confidence and my first set of skills, made all my first mistakes and had a wonderful time. I think there still is the opportunity for internships now, and I really recommend those for students because I had such a great experience. Of course, I made mistakes like everyone else during those early years, and that's what they're for. So I know that the L. A. Times still has an internship program. Many of the major newspapers still have internship programs, and I really advise students that are going in that direction to get them. In fact, I think students these days spend more time doing internships than we did. I think there are less jobs available so that that means they're doing more internships than than in the old days. Because I got hired right out of out of my internship and a bail pastor Harold Post. And so did that mean that you were sort of thrown into the frying pan sort of straight away as a young photo journalist had to learn the job on the on the go, I suppose, Well, I mean, not really, because I think that being there on the border, I had the beauty of having a team. I had an editor and I wasn't on my own. I had some structure. But being able to cross that border and gaining the experience of working in another country was very instrumental. So by the time I got to the L A. Times, I already had over 10 years experience, and then it wasn't until 1999 that I was sent to cover the U. N. Intervention in Kosovo. So I felt like at that point, I had already had a lot of international experience in Central America and South America. So Kosovo was in 1999 and that was followed by the war in Afghanistan in 2000 and one, and I don't think I would have been ready for those two assignments if I hadn't spent so many years abroad already. Now they sound like tremendously difficult assignments. But of course, you've also served the cause of photojournalism by embedding with US Marines in the US Iraq war. You have covered street battles in Sierra Leone and Liberia covered sieges in the Middle East. What's it like being caught in the middle of all that chaos? Well, I think part of that experience that I gained was learning new zing instincts. And that's something that really has to come over time, because when you're covering conflicts, all your attention has to be on gaining up to date information, how to stay safe. How am I going to get to the front line, get back, make my deadline? It isn't a time to be learning photography skills and to beginning your news instinct. So I think most of the time I'm in covering complex. It's really about focusing on getting the job done at hand and and doing it safely, especially when you're working for a daily newspaper. So I'm filing constantly, especially these days. I mean, the deadlines are even shorter, but back then I would work all day and then I would edit and file at night. And it's an exhausting process. So there's not a lot of time to reflect on what you're doing. You're just just very highly driven, focused on what the job was. How do you prepare to cover such big stories? They tell you Okay, you're getting a Kosovo, and how much lead time did you have? And very little, very little lead time. I mean, and And the reality is, is that you can't possibly know everything about every country that you may go to. So I am trying to stay on top of what the news is and what this developing stories are that are going on. But when you get there, you really do have to find context. Local drivers, translators, local journalists, fixers, people who definitely know the area better than I do and people who can assist you and helping you stay safe and find the people that you need to tell the story. Primarily. It's about what is important for the radios of the L. A. Times to know about what's happening in these countries, and I've always felt that I was their eyes. I was. I was there to see what they couldn't see for themselves, and it's something that I've always taken very seriously. So I think nowadays there's less need for somebody like myself. Now with digital photography, there are plenty of local journalists that can cover these conflicts. And I think there has been a shift now away from sending someone like myself to far off places because local journalists are able to cover their own stories and I see that as a positive thing. Obviously they know the situations possibly better than someone coming from outside. I will say, though in some stories it's an advantage to be an outsider. For instance, in Israel, I'm able to cross from the Palestinian side to the Israeli side. Even in Iraq, I was able to, you know, you can go back and forth across the front line so sometimes it does help. If you're an outsider, you know, most people around the world that are caught up in a crisis like this, they understand the importance of international journalists who are there to sort of share their story with the world. And so I've always tried to be very professional and project that professionalism and sincerity because I think that really comes across and people respond to that. I also have a very clear understanding what my role is, especially being an American photojournalist. I always felt that it was my responsibility to cover those conflicts, to be there, to show what was happening, what the influence, what the impact of the U. S. Government's actions were. So I think just having that clear role has been very helpful to me. It seems that having that roll top of mind has two advantages. One is that you've been very conscious throughout your career of being a witness to history, as you said earlier in the podcast. And I think that's a really wonderful way to put it, especially for from the historian and archivist position that your archive, you know there's a consciousness to that that isn't necessarily there with all the papers and archives that are that are at the centre or in in other places. But then I think the other one and he's spoken to the center about this before is it seemed to be able to. There's a mental distance you are able to keep with some pretty grilling subjects. Yeah, I think it does help me if I have that focus not to get so emotionally evolved that I lose sight of what my purpose is. I mean, if I'm unable to carry out my my job, then I shouldn't be there. And my job is to show what the human cost of war is, but in a way that people won't turn away from. So I don't keep a mental distance, but rather, I try to bring that view as close as possible to what's going on in the world through my photography. So I think that sense of purpose really has enabled me to get close, but at the same time not get so involved that I'm not that I'm unable to do my job right. I think one of the strong characteristics of your work that's evident when we see it is your compassion for your subjects, and it's just really striking because you are surrounded by those being injured and killed, and yet you're able to continue. And so, in that moment of under fire, how do you keep your focus. How do you decide what's important and how do you go about protecting yourself? Well, physically, the protection is I've always been very regimented about wearing protective gear, but I do think most of it is comes down with the people you're working with and just finding people that you have confidence in and and even working with other journalists that I've known from other conflicts. There was a time when a group of us were traveling to quite a few of the same places, so we knew we could rely on one another. And that really helps a lot, having somebody to watch your back and watching someone else's back, and and then also relying on local people who know that the area better than you do. I think those have been instrumental in helping me get through some very difficult times. But of course several of my friends did not make it so. At least these situations are very dangerous. A lot of it comes down to luck and I certainly have been lucky, but I do try to do everything I can to stay safe at the same time. If you're not willing to get in there, then you're not going to get the pictures you need. And most of the time, these are places where the government doesn't want you to see what's happening, and it's your job to push past those barricades to get to the source of the story. And that certainly was the case and the Church of the Nativity. You know, even in Iraq, it was very difficult to get into Iraq before the Iraq war started and to be in there when the American bombing started. So all of this is about access, and working for a daily newspaper, I think, was very helpful to me. It's very costly to cover these kind of conflicts and and having the support of the newspaper. And my editors gave me that extra sense of protection and has allowed me to cover a lot more stories, and I probably would have been able to do as an individual. Caroline, your career has been mercifully injury free. That is, until recently, can you describe to us your experience in Minneapolis over the
[0:17:19 Speaker 1] summer?
[0:17:20 Speaker 0] Sure, the protests in Minneapolis had been going on for about four days when my editor decided to send myself and one other photographer. That's definitely not the way I like to approach a story, because the story had already been. It was well underway, and by the time I arrived there I was arriving at night. The city was already in flames, and it was on the second day that I was covering a peaceful protests. At one of the police precincts. There was a group of protesters that were sitting down in the middle of an intersection listening to speakers. There were about 2025 journalists that were sort of off to the side on a side road, separated from the protesters. But we all knew that the curfew was about to was approaching, and once it did, the police started coming out of the police precinct, and that's when the conflict happened. You know, I've never been in a situation where the police couldn't distinguish the press from the protesters. I mean, we were clearly identified. I had a helmet on flak jacket, gas mask, my cameras around my neck. I had big TV written on my flak jacket. I had goggles and most of the other journalists that were standing with me. I had the same kind of identifying marks. But yet the Minneapolis was actually the Minnesota State Patrol came straight over to our group and fired pepper spray into our faces and then started firing rubber bullets at us. It was something I had never seen before. I know it has happened before, but I had never experienced such a direct attacked by police officers and basically my eyes were burned and I couldn't see where I was going. I had to try to get out of the scene because they weren't even allowing us to retreat. Basically, they were making us go forward with the other protesters, and a group of us got cornered into a wall area. I got thrown over the wall by one of the officers, and it was a real nightmare and an embarrassment. I mean, I have been covering conflicts for a long time, but it's never pretty. When you get caught up in something like this, you were able to capture part of the scene, the audio to the scene. I'm going to play that and I love you to walk us through it. Once it's finished playing.
[0:19:56 Speaker 1] So
[0:20:01 Speaker 0] Caroline, how are you able to capture this footage. I was taking pictures throughout up until the time the pepper spray hit me in the eyes. So I did get quite a few pictures off as the police patrol was coming at us directly into our faces. And then somehow the video started. I don't know how the video actually started rolling, but that's what you're hearing there in the audio of the video, although the video is just of the ground. There was one clip at the end of the video, which is when the journalist, myself included, got cornered into this walled in area. And that's why I think that you hear me saying I'm trying, I'm trying, but I'm trying to get over that wall. But it's about 4.5 5 ft, and I already have on a flak jacket, helmet and all my cameras, and I literally can't get over this fence, which is a metal fence, and they're still telling us to, you know, get out, keep moving or whatever. And then he the police officer, actually puts me up on the wall and I fall over to the other side. So that's sort of the audio that you're hearing from the video, and you can see the other journalists that are there, including my co worth worker, Molly Hennessy Fiske, who was shot several times with rubber bullets. As we're retreating as we're running away, they're still firing rubber bullets at us and I can actually see them, although I can barely see I'm feeling along the wall to get out of this situation because I can't. My eyes are not functioning, but I do see sparks that are flying off the back of the reporters body. Basically, it seems that this is a pretty unique moment in American history. You're capturing, at least in modern American history. Obviously, there are examples of civil rights photographers being treated pretty roughly by Southern troopers in the late fifties and 19 sixties. But this seems to be a return to that kind of treatment, and, uh, and you captured it. Why do you think state troopers in Minnesota failed to make the distinction between press and protester? Well, in this case, the Minnesota State Patrol had not been out on the streets. They had been holed up, and this was the first time that the Minnesota State Patrol was coming out into the streets and I think they had a lot of pent up anger towards towards the protesters. Obviously, the city had been burning already for three or four days. They weren't making any distinction whatsoever between the protesters and the press, and I think their mentality was just to clear the area. Now The press had been allowed. They were not supposed to have to abide by the curfew. In fact, the governor the next day apologized, saying that no, the press is not subject to the curfew, but it was too late. And the sad thing is, I was unable to carry out my job. So to me, the tragedy is that this kind of behavior, I mean, actually shut down many journalists. One lady lost her. I you know, I couldn't work for about a month after that. The reporter continued to work, but I mean it really is. It really does prevent journalists from going out and doing their job that they should be out there doing. Luckily, you know there's many journalists there to cover it, but I think that's the biggest disappointment for me was that I was unable to carry out my job Dr Carlton talked about this in an editorial for the hill as being an attack on the eyes of America. I wanted to ask you, how is covering Protest changed over the last 30 years. Has there been a slow creep to this sort of treatment? Would be it incompetence or something more nefarious? Or has it been have we sort of crossed the threshold? Is this to all intents and purposes new? I think there has been a shift internationally. The shift came when Daniel Pearl was killed in Pakistan. That was when journalists started become a direct target and that only accelerated and exacerbated through the time in Afghanistan and then into Iraq and then Syria. I mean, it's only gotten worse that journalists have become a direct target of groups that want to make a statement or for ransom and kidnapping. And you know, prior to that, journalists really did seem to be able to travel in sort of a bubble, doing being able to do their job. People around the world understood what the job of the journalist was that their story was going to get out. They wanted us there to to show what was happening to them. But there was a serious shift after those incidents in the Middle East. Now here domestically, I think that just the rhetoric coming out of the White House really has exacerbated people's feelings about the press. And there has been a lot of hostility directed at the press in recent years that I have noticed. I guess that started when, Well, it didn't just start then. But I remember covering Trump rallies four years ago when he would point at us and and call us liars. I mean, that certainly was a big shift in the way that the media had been treated, and that's only deteriorated since then. And so the addition, in addition to that in recent protests, we've started to see that people don't want to be identified, and that's something that was very new. We haven't been dealing with that in the past. In the past, people understood if you were going to a protest, it was a public event. You were out there to make a statement. But now protesters are demanding that we ask their permission to photograph them to show their faces. That's a whole another level that we haven't had in earlier years. So this is changing concept of public space. It's definitely a definitely, and people are attacking journalists in ways that we've never seen before. I know I was at a protest here in Los Angeles about a month ago, and a woman claimed that I had wronged somebody that wasn't even her. And she said it was, That's you. You were the one that was acting disrespectful. I wasn't even there. I was in Minnesota at the time that she was describing, but people are really directly attacking the media in ways that we've never seen before. Caroline, with that, can you compare your methods photographing with combat photography and protest photography? And how does protest and combat compared to other disasters you've covered, such as Hurricane Katrina? Columbine?
[0:26:29 Speaker 1] Well, I've
[0:26:30 Speaker 0] always approached my work very similarly, whether it's a local story or an international story. I mean, my goal is to get in there, figure out what needs to be told, and to make images that best represent that, whether it's a simple protest like I went to this morning with some workers at the airport or an international story, I mean, I really I really tried to make images that are going to speak to people. Show them what's happening. Get the information out there. First of all, do it in a way that's aesthetically pleasing, compositionally light and graphics. I mean, I'm really trying to combine all those elements into my work, and I think that what's happening in these days is just equally important to what we've covered over the last 30 years. I mean, nothing could be more important than what's happening with the California wildfires. With the pandemic going on this year, the economic crisis, the election, these are all critically important stories, and I really take them as important as any conflict that I've covered in the past. That being said, there is the opportunity to return and follow up with people that you may meet and photograph. That's not always the case when it's an international story, and certainly with New Orleans, I've gone back to New Orleans many times after Hurricane Katrina. I'm still in contact with some of the rescue workers that helped me during my first time there, so that's one of the advantages of being a local stories being able to follow up. I'm not a documentary photographer, So I am not on these stories over a long period of time, where I'm spending, you know, months and years with people. That's not the type of photography that I do. I really am a photojournalist, but I do stay in touch with some of them, and that can be very rewarding. And in terms of Louisiana, I was. I was there in 2000 and 10 to cover the BP oil spill, and that story had a really profound effect on me. I spent about a month trying to cover the oil as it was washing up on the on the seashore and the effect that it had on some of the wildlife there and just the environment. And I think that was when I really started to shift away from conflict and towards environmental journalism. Well, Caroline, you have been a witness to all of these apocalypse stories over the last 30 years, from Columbine and Katrina through to war in Iraq and Afghanistan, right up to the present with black lives, matters, protests. And you know these. You've witnessed history through your eyes and those eyes have they've been attacked for recently and luckily they've healed as well. And you're back out there continuing this incredible documentation of American history as it unfolds before us. And we're so thankful that your archives are at the Briscoe Center, and I just like to know what your hopes are for the archive. And what would you be your advice for students or other researchers that delve into these archives? Yes, I'm very thankful that my work is now, you know, at the Dolph Briscoe Center for American History. I mean, I have been very diligent over the years to keep every negative and file not because I felt that each one of them was important, but because I was making a conscious effort to record history. And I don't think we always know what the importance of artwork is going to be at the moment the images are taken, and that's why it's important to be consistent. So if I had advice to students, I would say that keep an important record, keep an archive, keep it in order so that people can actually find what they're looking for. And, you know, I've been a witness to so many historical events over the past 30 years and you know that's the contribution that I've made. And I hope that that work can be used by the researchers by some researchers in the future. I also feel that with the instability in the newspaper industry, that it is important that the work has a place because we're not sure what's going to happen with newspapers in the future. We don't know what will happen with the archives, and now my work has a second home there at Briscoe, so I'm very grateful to that. In addition, I I wish that I had kept better notes. I am not a diary keeper, but if I were to go back, I would. I would definitely recommend that students keep more of a diarrhea as well. Luckily, I every day of my life is recorded through photography, so hopefully when I do retire, I'll be able to go back and pull up some of those memories from those years and from looking at the from looking at the images. But I I think that I could have done that so much better if I had been keeping journals along the way. Well, when you do begin that process Caroline. I hope we can help in some way. It sounds like a fascinating project in and of itself. And it would be a wonderful addition to the archive. Oh, I'm definitely planning to go back and work on putting something together. I do hope that at some point in the near future, I'll be able to come to Austin and work with you all and putting something together That will be a more formalized version of the work that I've done over the past 30 years, and I would appreciate any help you could give me. And I just wanted to follow up with this. Caroline For many years you've led and instructed teams of photographers at the annual Eddie Adams Workshop in New York. And in fact, this is the weekend of the workshop now gone virtual since we're in the middle of the pandemic because of the intensity of that workshop and the concentrated effort, had there been any possibility of imparting to the students that they should retain their work as an archival because you leave these teams you know, I haven't really thought about telling them that, but I think that is something that should be mentioned. You know, I'm not teaching it Eddie Adams this year, and I think Eddie Adams is maybe not the venue for that because it's such a short and intense three days of photography and storytelling. But certainly when I have time to meet with students one on one, I think that's when I'm at my best, telling them about some of the experiences that I've had and the things that I would have wished that I could have done. I mean, I think another element of my work is that I didn't focus on on concise areas of concentration. I think it would have been good if I had had certain areas of concentration, whether it was whether it's the environment or women or conflict. Or, you know, I think my work is very broad, and that's why putting it into a book for maybe more difficult. But I do tell students these days that they should be thinking about those central themes that they may want to follow throughout their career so that the work may have a more concise element to it. Well, Carolyn, I want to thank you for joining us today, and I want to just add that your archive. Is it a place where we believe photographs are fundamental, not ornamental, to the telling of American history? And I'm sure they will be used for decades to come to foster exploration of the American story. So thank you so much for joining us. Alison, Thank you for joining us as well. Thank you for having me say I really appreciate it, and I look forward to following the podcast that you have in the
[0:33:43 Speaker 1] future. Today's episode of American Rhapsody was made possible by the photographic archive of Carolyn Cole. Cole, a UT graduate, donated her extensive personal archive to the Briscoe Center in 2018. Her collection includes thousands of negatives, prince contact sheets, correspondence and ephemera, as well as papers documenting her assignments. The vast majority of these images have never been published. They provide researchers with a remarkable array of primary source evidence. Please visit our